Kitty Cheshire
Edit
Kitty Cheshire
is Lizzie's best friend since Nursery Rhyme as revealed in
Lizzie Hearts's Diary
. Kitty said:
Crowns and Smiles under one tree
. Which means that they are best friends forever after.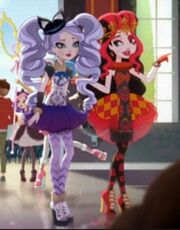 You can also see them talking with each other in the cafeteria, the hallways and at The Village of Book End.
Daring Charming
Edit
Lizzie and
Daring Charming
 have flirted with each other numerous times. Daring keeps trying to impress Lizzie in every way, such as quitting his race, asking her out, disturbing her in Royal Student Council, and getting knighted by Lizzie. Despite all this, Lizzie won't have it. It is like she has a thing for him though, as she admitted her crush on him on her Mirror Blog, and she was okay with dubbing him.